Reliable partner since 1987

Our products together with trained personnel and years of experience stand for quality and reliability and are the most important basis of cooperation with our customers.

to solve the most difficult technical problems. We have got a competent tooling department that allows us to quickly adapt to changes. We distinguish ourselves by quality, experience, knowledge, flexibility and reliability. We are at your disposal if you need to have a tool manufactured or changed. Due to the massive increase in tasks to be dealt with, we relocated to a new location in 2018, where we are able to adhere to the needs of our customers even more intensively.
In 2021, we transitioned to the new ISO 14001:2015 certification.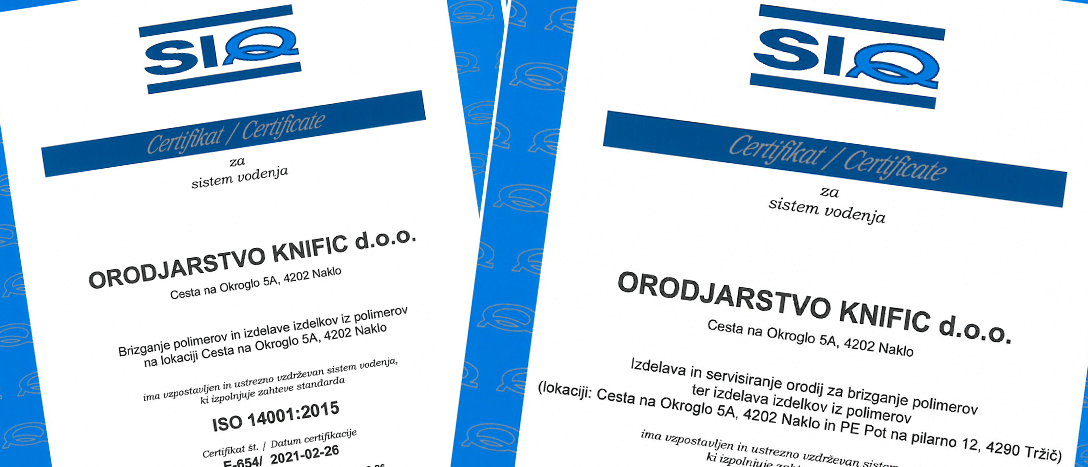 Our process has proven to bring results
1. MEETING
You are kindly invited to a cup of coffee at our premises and together we will discuss what we can do for you.
2. PLANNING
Our staff members will work out the design, present it to you and update it if need be.
3. EXECUTION
Naši dovršeni stroji bodo do stotinke milimetra natančno naredili vaš izdelek.
4. TESTING
Quality inspection of the product and testing the same before shipping is a mandatory part of our process.
5. DELIVERY
Following all inspections, the product is being delivered as ordered.